1. overture
August 25, 2021, is the golden autumn.
At an altitude of more than 2,000 meters, Xiaoyinmu Township, Jinyang County, Liangshan Prefecture, Sichuan Province, is full of bright sun and clouds.
In the auditorium of the township government, there were laughter and full of seats. Chengdu Seamaty Technology Co., Ltd. and the Party Committee and Government of Xiaoyinmu Township jointly organized the "2021 Golden Autumn Student Aid Distribution Ceremony" is about to begin.
This year, freshmen and representatives of their families who have just been admitted to various universities and technical schools have rushed over from various towns and villages over the mountains and mountains.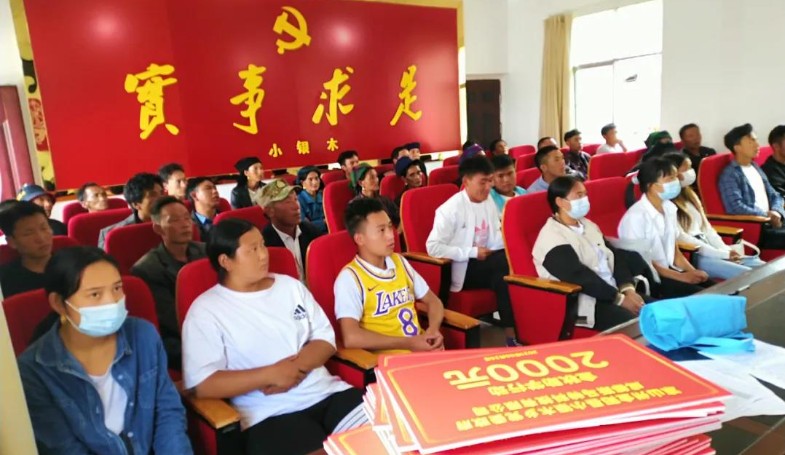 Ran Peng, chairman and general manager of Chengdu Seamaty Technology Co., Ltd., Zhuang Xin, general manager of Chengdu Zhongxin Yanxuan Technology Co., Ltd., and Zhang Aina and Peng Yan, employee representatives of Chengdu Smart Technology Co., Ltd., also came from Chengdu to participate in the event.
Everyone is looking forward to it and looking forward to the ceremony.
02 Speech
First of all, An Yubin, Secretary of the Party Committee of Xiaoyinmu Township, delivered an enthusiastic speech. He expressed his heartfelt gratitude to all employees, all directors and social carers of Chengdu Seamaty Technology, Mr. Zhuang Xin, Mr. Zhang Qing, and Mr. Peng Biao for their kind deeds. Put forward ardent expectations for the aided students.
Subsequently, Ran Peng, chairman and general manager of Chengdu Smart Technology, pointed out at the meeting: education is "ten years of trees, a hundred years of people". It is not easy for all students to be able to study hard for many years and be successfully admitted to various universities and technical schools. In particular, it is even more rare for everyone to achieve such results in Liangshan, where the geographical environment is difficult and the family economic conditions are relatively poor.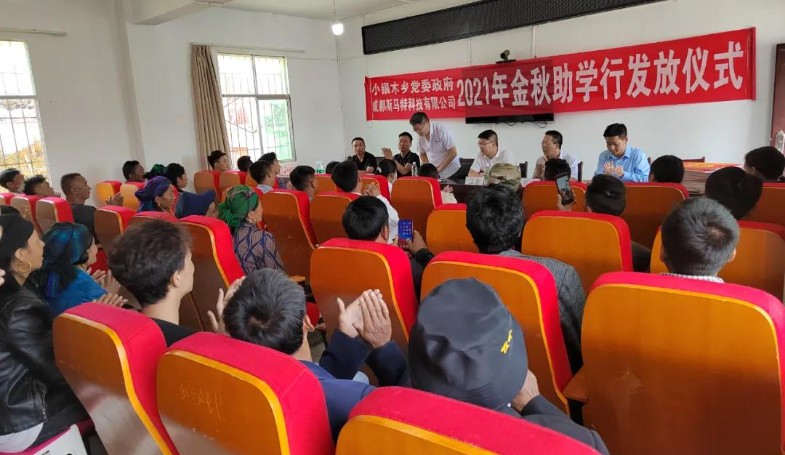 Mr. Ran emphasized that the purpose of our golden autumn student assistance activities is to express our concern and support for all students through limited financial assistance. We encourage everyone to go out of the mountains to broaden their horizons and grow and exercise in the outside world. In the future, we will strive to grow into talents useful to the country and society.
He hoped that his classmates would establish lofty ideals and ambitions in life, be down-to-earth and guard against arrogance and rashness. He hopes that everyone will continue to work hard to learn new knowledge, enhance new skills, start new businesses, be grateful forever, encourage them to move forward, live up to their youth, and have no regrets in their youth. In the future, everyone can promote the revitalization and development of the hometown by personally participating in the construction of the hometown, so as to repay the society and the hometown.
03 Grant bursaries
After the speeches, An Yubin, Secretary of the Party Committee of Xiaoyinmu Township, and Ran Peng, Chairman and General Manager of Chengdu Smart Technology, handed out the Golden Autumn Scholarship Action plaque to the representatives of the undergraduate students receiving assistance.
Immediately afterwards, Mr. Ran personally distributed the scholarships to the recipient students one by one.
According to statistics, in this event, a total of 2,000 yuan was awarded to 6 freshmen undergraduates, 1,500 yuan to each of 19 college freshmen, and 1,000 yuan to each of 15 secondary school freshmen. A total of 55,500 yuan was issued.
04 Narration
Over the years, Chengdu Smart has always adhered to the corporate mission of "caring for life and health and benefiting the global public", and the core corporate values of "integrity, gratitude, collaboration, and innovation", and actively assumed social responsibility. Township Jinqiu School Aid Activity, Liangshan Prefecture Children's and Children's Material Donation Activity, Fuxin College of Liaoning Province, Luqu County Primary Clinic in Gansu Province, Chengdu Jinniu District People's Hospital Medical Equipment Donation Activity, Chengdu Stray Dog Home Donation Activity Etc., participate in various social welfare undertakings through a variety of ways, and fully implement the corporate mission and core values.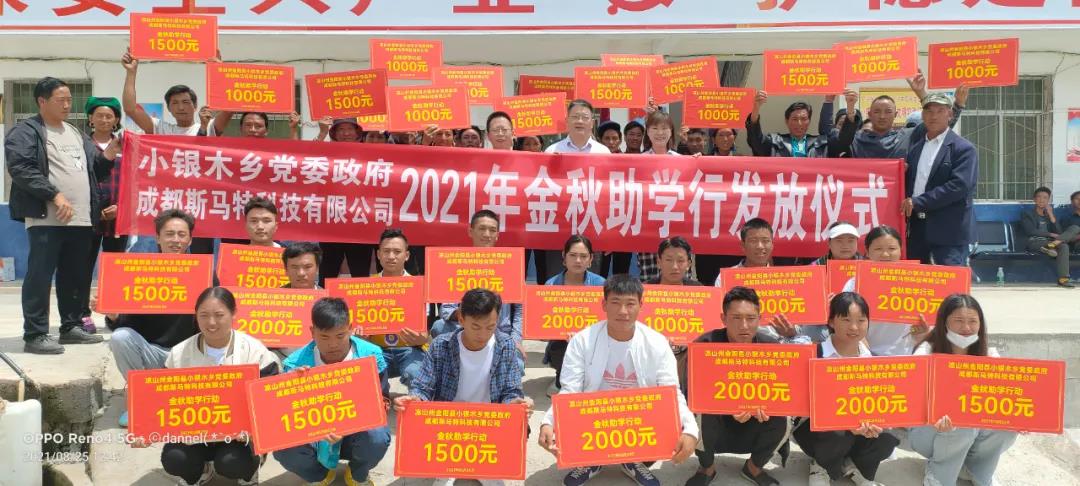 This golden autumn student assistance activity is the first one held by Seamaty in Xiaoyinmu Township. This is also the beginning of Seamaty and all employees' continuous care and assistance to the students in Xiaoyinmu Township. In the future, Seamaty will continue to care and help students who meet the funding requirements.
05 Ending
In order to do a good job in this golden autumn student aid activity, the company employees rushed to donate, and the company directors and social caring people responded positively, and the total donation reached 45,499 yuan.
The four representatives who rushed to the site to participate in the event drove more than 1,300 kilometers back and forth within 40 hours, and the journey time accumulated more than 24 hours. It was stormy...
Regardless of the difficulties and obstacles ahead, our Seamaty people's determination to participate in social welfare activities remains unchanged and our commitment to social responsibility remains unchanged. We will continue to carry forward and pass on this love, and contribute our own strength to the promotion of social development and progress within our capacity!